Year 6
General Information
PE days - please bring your kit (white top and black shorts with suitable footwear)
Homework
Homework will be handed out on Fridays to be returned on Wednesdays.
Year 6 Experiencing a Tudor day at Shibden Hall May 2017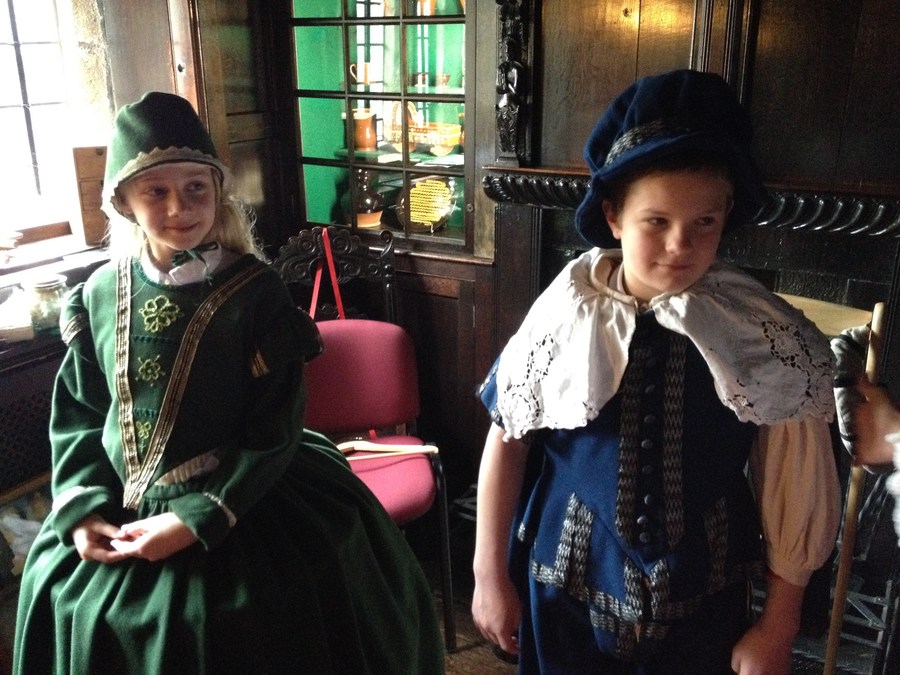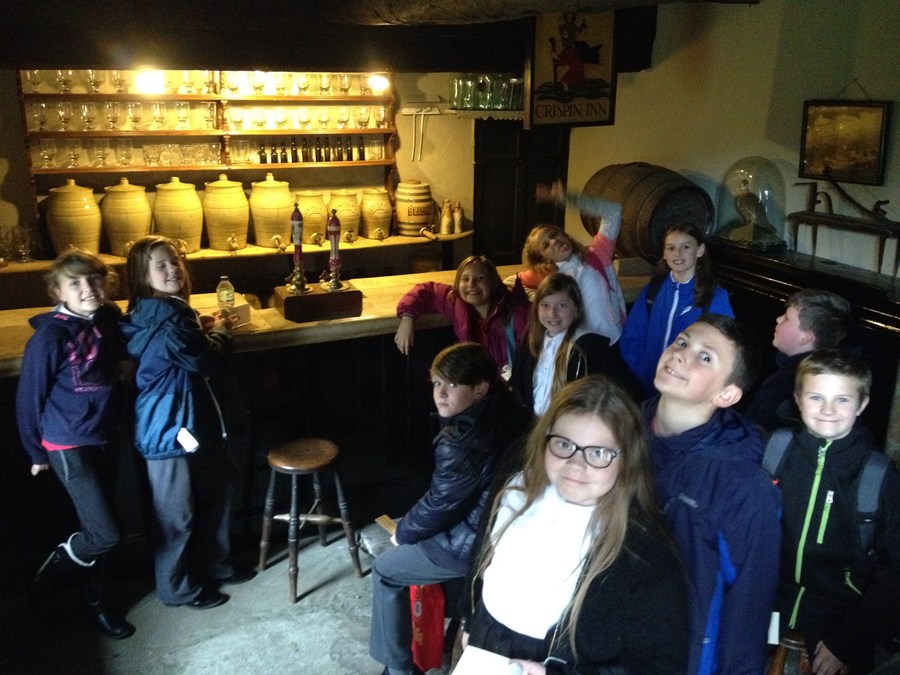 Christmas Gift Boxes for the Elderly
On Wednesday 7th December our Y4 Rotakids, helped by Y6 pupils, made the Christmas gift boxes for the elderly. They look fantastic and we received some wonderful donations. THANK YOU to all the kind parents and carers who gave generously – you have helped to make Christmas that little bit special for someone in our community. We would also like to say a big thank you to the Rotary Club of Stainborough for all their donations to the gift boxes, in particular Barbara Lee and Joyce & David Pickett who came and helped children make and wrap the gift boxes. Thank you to Jean Gaunt, the manager at Birdwell Co-op for all the lovely boxes of chocolates and also thank you to the Tesco on Huddersfield Road for their donations. On Tuesday 13th December, 5DH will be going to the Wilthorpe and Redbrook Community Centre to distribute the gift boxes, sing carols and play some Christmas games.
Y6 CHRISTMAS FAYRE NIGHT - Friday 25th November 2016
Y6 pupils had a fabulous time selling their wares at the Christmas Fayre. The stalls were very busy and they did so much trade that we are still counting up to see how much money they raised! We even had two ex-pupils, Phebe Revitt and Verity Sumner who won the Big Challenge Enterprise competition last year, come back and sell their products - great inspiration! Well done to all the pupils who worked collaboratively and also many thanks to the help from parents - the pupils couldn't have done it without your support.
Y6 CHRISTMAS FAYRE ENTERPRISE PROJECT
Y6 pupils have been working hard on their enterprise projects for the Christmas Fayre on 25th November. Children have been working collaboratively and have completed business plans and liaised with a business mentor from Horizon Community College. They will be selling their wares at the fayre and hope to make as much profit as possible.
THE DEEP TRIP - 17th November 2016
Y6 pupils have been studying a variety of fascinating topics this Autumn term and, in order to bring these topics alive for pupils and to encourage wider learning, we organised an educational visit to the Deep in Hull, one of the country's most spectacular aquariums. During the day, children had the opportunity to explore the aquarium and also took part in two different curriculum workshops: 'Animal Adaptations, 'Rivers and Rainforests'. Here are some photos:
Y6 Role Models - Random Acts of Kindness
For our Random Acts of Kindness project some of our Y3 worked with several Y6 pupils to make 'Wilthorpe Kindness Hearts' : salt dough hearts with quotes of kindness attached. These will be handed out to the general public in Barnsley by selected pupils, the idea being to empower the children to become advocates of peace and coincides with anti-bullying week. Thank you to Sophie Duke, Millie Robinson-Walton and Megan Sharp for working with our Y3 pupils to help them with the project and for being excellent role models.
Y6 Role Models
Thank you to Megan, Sophie and Millie for being fantastic role models and teachers and working with our Y3 children on the Random Acts of Kindness project!!
BARNSLEY TOWN REMEMBRANCE SERVICE
Thank you to Joe Parrinder 6NB, Scout Wilkinson 6NB, Millie Robinson-Walton 6HR and brnadon Clifford 6HR for representing the school at the Barnsley Remembrance Service and placing two wreaths at the monument.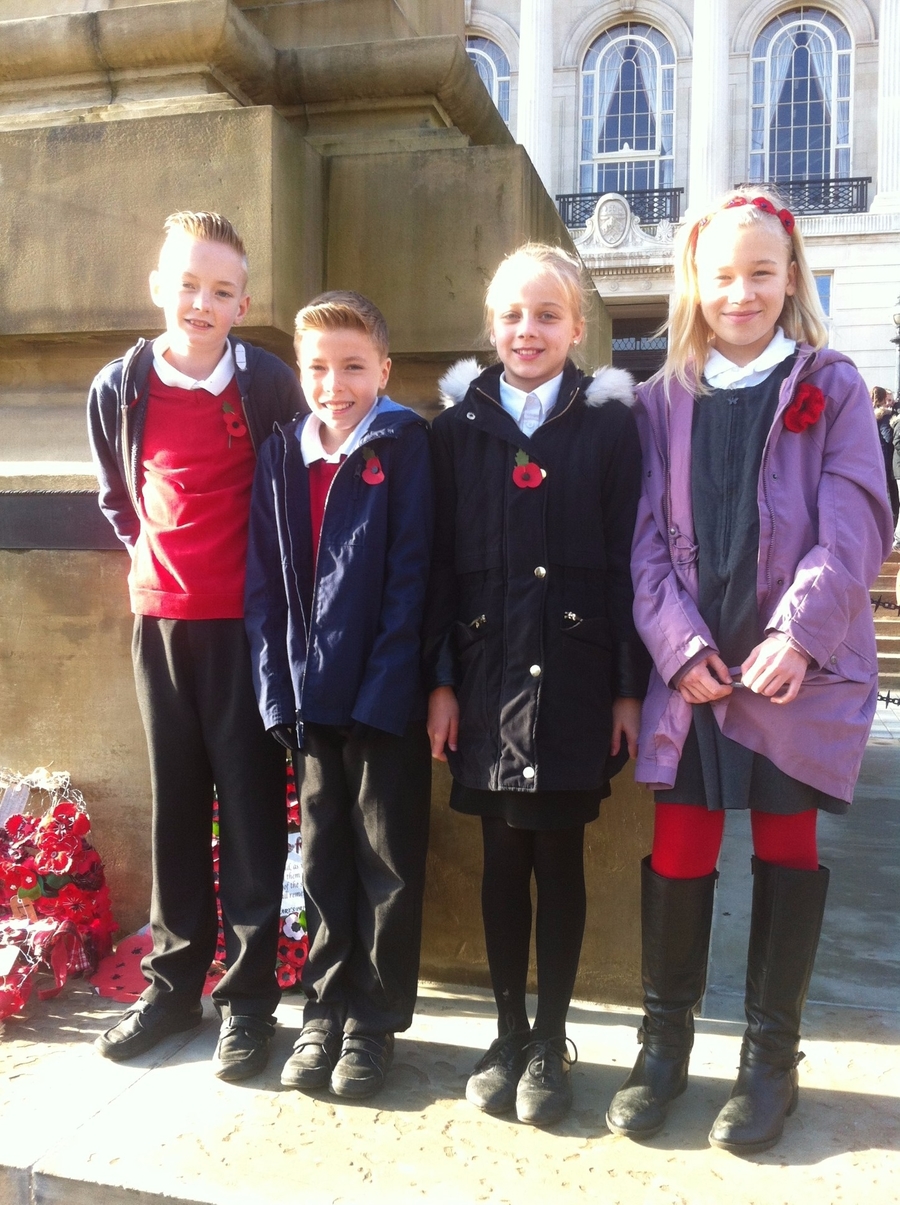 Well done to Grace Oliver!
Well done to Grace Oliver for her lovely reading of the poem 'In Flanders Fields', by Lieutenant Colonel John McCrae, during our Remembrance Service on Friday 11th November.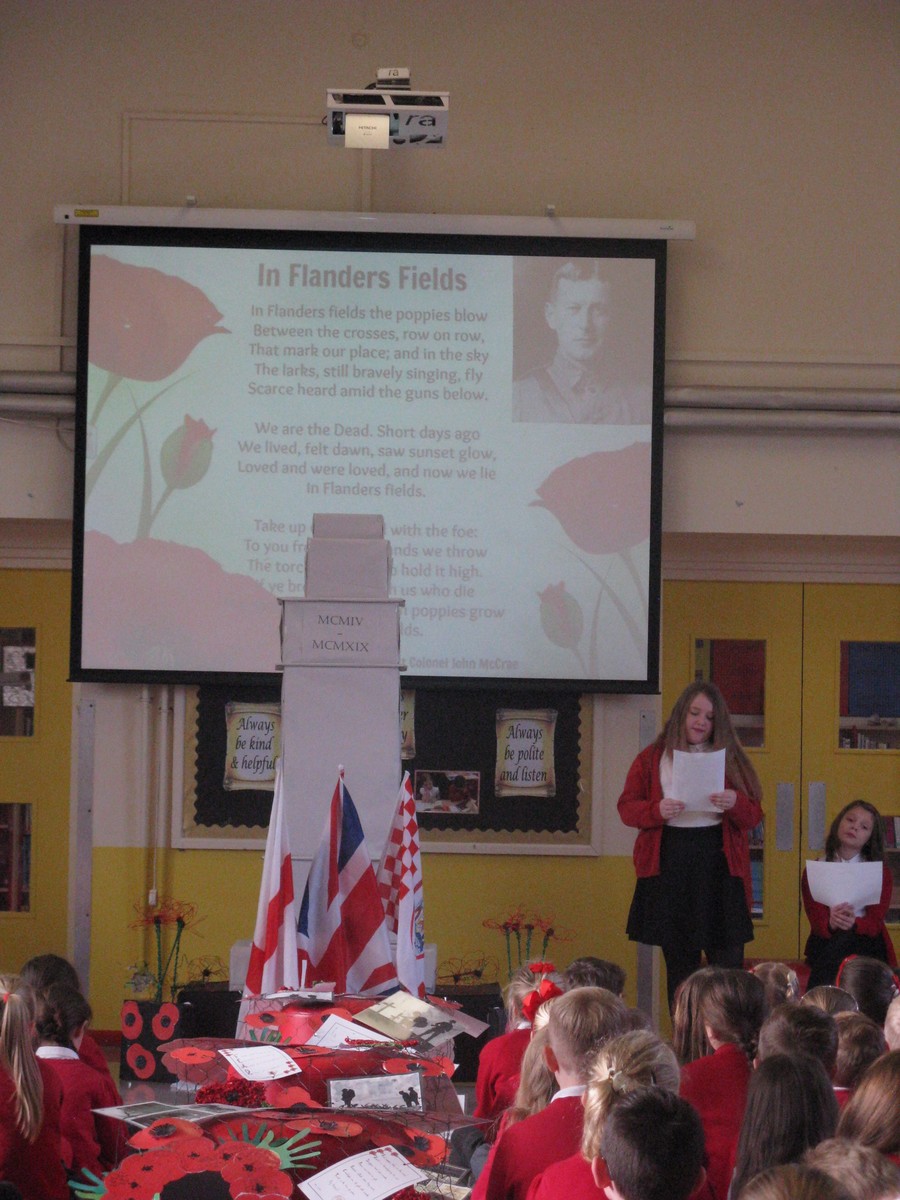 CRUCIAL CREW VISIT - 7th November 2016
Y6 visited Crucial Crew in Rotherham on Monday 7th November and took part in a variety of important workshops linked to Bus Safety, Road Safety, Fire Safety, First Aid, the Criminal Justice system and Alcohol Awareness. They came away well informed and equipped to deal with everyday dangers and also learned how to make the right choices and what the consequences of making the wrong choices could be. Here are some photos.
REMEMBRANCE DAY WORKSHOPS
This year marks the centenary of the First World War and, to commemorate this, Wilthorpe Primary school put on a variety of activities that encouraged children to understand how war has shaped our society and also how they, as the next generation, are responsible for shaping the future. As John F. Kennedy put it: "Peace is a daily, a weekly, a monthly process, gradually changing opinions, slowly eroding old barriers, quietly building new structures." Y6 were involved in making class wreaths, carrying personal pledges for peace, for our Remembrance Assembly; they also wrote acrostic poems for our 'Field of Poppies' display. Here are some pictures of our Y6 pupils decorating poppy biscuits to sell and also selling poppies for the Poppy Appeal.
EUROPEAN DAY OF LANGUAGES, 26TH SEPTEMBER 2016
As part of our European Day of Languages activities to celebrate European culture and languages, Y6 not only had the opportunity to try foods from different European countries at lunchtimes, they also got the chance to learn some Spanish dancing. Here are some photos:
A FRESH START - Y6 2016/17!
Well done to our new Y6 pupils who have made a fantastic start to the new academic year. We have been doing some exciting work in science to do with both the circulatory and respiratory systems. Here are some photos of 6HR investigating lung capacity.
AIM HIGHER CHALLENGE AWARD CEREMONY 2016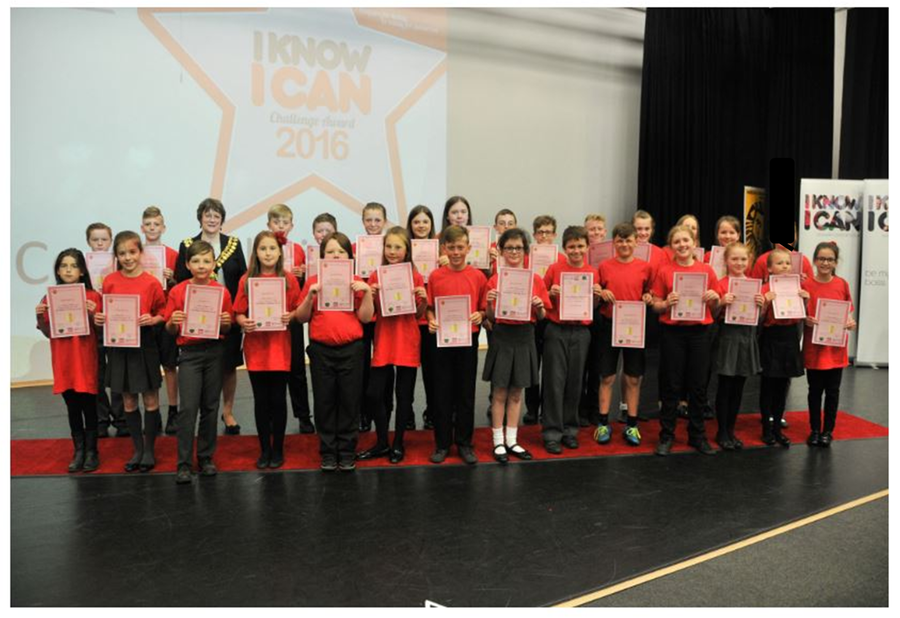 AIM HIGHER CHALLENGE AWARD - IKIC (I Know I Can)
On Friday 17th June our Y6 pupils attend the Aim Higher Challenge Award Ceremony at Horizon CC to celebrate their achievement of becoming 'I know I can Aim Higher Champions'. Thank you to all the parents and carers who took time out of their busy schedules to support the event. Below is the article from Barnsley News and Sport website (link below to see the live page) together with a photograph. Well done Y6!
Wilthorpe Primary School pupils aiming higher
June 23rd, 2016
Fifty-nine Year 6 pupils from Wilthorpe Primary School have been recognised for their achievement in becoming 'I Know I Can Aim Higher Champions'.
The red carpet was rolled out at Horizon Community College to celebrate the students who have taken part in a number of experiences and opportunities to develop healthy minds, skills and build 'real' character.The 'I Know I Can' scheme inspired pupils to raise their aspirations and celebrate achievements, by encouraging pupils to think beyond their home and get involved in community and global projects. I Know I Can (IKIC) is a brand developed by partner organisations, including Barnsley College, who want to make a positive contribution to the lives of the young people in Barnsley. The Mayor of Barnsley, Councillor Linda Burgess, Principal of Horizon Community College, Nick Bowen and Deputy Principal of Barnsley College, Yiannis Koursis, presented students with their certificates.
Nick said: "To work in partnership with our excellent primary schools and Barnsley College on raising the aspirations of young people in the area is something we are very eager to continue.
"The IKIC event with Wilthorpe Primary School shows just what can be achieved with an enterprising attitude and real partnership work. I hope this is the first of many such events. The children all deserved the recognition they received for their enterprising community activities."
http://barnsleynewsandsport.com/2016/06/23/wilthorpe-primary-school-pupils-aiming-higher/
Y6 'Big Challenge' Enterprise Competition Update
What a fantastic few weeks for Wilthorpe Primary School – first our 'good' Ofsted outcome, followed by the 'Collaboration Cup' football win and now fantastic results at the IKIC Big Challenge Enterprise competition. Our two Y6 teams who made it through to the Dragon's Den finals found out the results of their efforts last Wednesday at an award ceremony held at the Holiday Inn, Dodworth, for all the finalists. Our two teams had an amazing time and picked up a number of awards:
VP Designs (Phebe Revitt and Verity Sumner) picked up the overall award (including secondary schools) for 'Best Pitch'
Infinity Jewellery (Sarah Mara, Macey Wollerton, Ebony Clarke and Caitlin Ramsden) picked up the overall award (including secondary schools) for 'Best Innovative idea'.
Moreover, and even better, was that VP Designs impressed the judges so much with their company, beating off strong competition, that they went on to win the whole of the Primary section of the competition. Their prize is a fully paid trip to Cadbury World!!
We are so proud of them all – each team has worked incredibly hard and learned so much from the process including valuable skills for the future such as team work, time management, marketing strategies, interpersonal skills and money management. To come away with two individual awards and be awarded the overall winning team is a tremendous achievement! Look out Peter Jones and Sarah Willingham!!
19th April 2016 6EH/FR Exchange Letters in Spanish with our partner school, St George's, in Seville, Spain.
6EH/FR have been honing their letter writing skills in Spanish and this week they sent off their letters about Barnsley to our partner school, St George's School, Seville, Spain. The children are now waiting a response to find out what it is like living in Seville! Below are some examples of their work.
Tuesday 12th April 2016 Y6 History Visit to SHIBDEN HALL
As part of our History topic Y6 are studying the Tudors and we therefore arranged a Y6 trip to Shibden Hall on Tuesday 12th April 2016. Shibden Hall is a Grade II listed historic house located in a public park at Shibden, West Yorkshire, England. The hall dates back to around 1420, when it was recorded as being inhabited by one William Otes. During the day pupils took part in three different workshops which will gave them an insight into Tudor life. In session 1 pupils explored the role of herbs and spices in Tudor lifestyles. In workshop 2 pupils were given a wooden chest full of reproduction Tudor objects to investigate. In session 3, children explored the various layers of Tudor clothing. Reproduction costumes, accessories and paintings were used to build up a picture of Tudor fashion.
SCIENCE DAY FRIDAY 18TH MARCH 2016
On Friday 18th March Y5 and Y6 pupils took part in a variety of Science Day workshops. Children were encouraged to develop and use their investigative skills and took part in a number of fun activities, including:

- Balloon cars
- Making Toothpaste
- Investigating the warmth of colour
- Crime scene investigation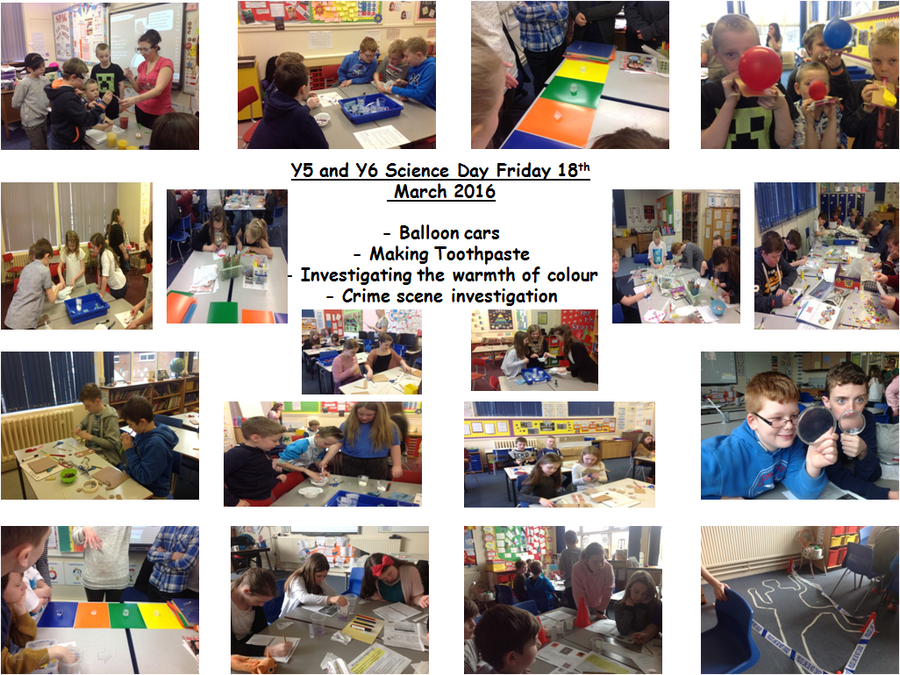 WORLD BOOK DAY THURSDAY 3RD MARCH 2016
On Thursday 3rd March Y6 pupils took part in World Book Day. They visited a variety of workshops based on Robinson Crusoe, Charlie and the Chocolate Factory, The Faraway Tree and Don Quijote de la Mancha. Children were given the opportunity to experience how a story can be brought to life and that there is a book for everyone, whatever your interests!
SIGN2SING 5TH FEBRUARY 2016
On the 5th February Y2-6 took part in Sign2Sing - a charity event that raises money to help deaf people. Everybody, including Y6 pupils, learned the Sign2Sing song 'Reach Out Your Hand' and on Friday 5th February we all sang and signed together in the hall. We raised £544.41 pounds through our collection and bun sale. Shannon, Kristie, Alice, Chloe and Beth from 6NB even did a Valentine's Raffle and raised £60!!
JO WILLOUGHBY - PARALYMPIAN EXTRAORDINAIRE!
On Friday the 15th January Y6 were lucky enough to meet the inspiring Jo Willoughby, a former paralympic skier who has won numerous medals and trophies competing for Great Britain at sit skiing. Jo gave a presentation about her life following her diagnosis of the illness Transverse Myelitis, in which she found herself paralysed in bed for 3 years from the age of 12. She shared with Y6 pupils the challenges she had faced and surmounted, achieving over 30 skiing titles and becoming European Giant Slalom champion. Our pupils were given the opportunity to test their own wheelchair and basketball skills, try on kit and medals and Macey W. even got to try Jo's sit ski. Pupils had the chance to ask Jo questions that they had prepared, the answers to which they then used as a basis for a biography about Jo. We were all thoroughly inspired by Jo's can do attitude and she reminded us of our school motto:
NEVER GIVE UP!
Thank you Jo!
Diary Dates
Young Voices Concert (Sheffield Arena) - 21st January
Young Voices Concert (School) - 2nd February 2015
SATs week - w/c Monday 9th May 2016
Leavers' Assembly - tbc
Y6 pupils taking part in a music workshop organised in conjunction with Barnsley Music Service 16th December 2015:
Y6 Pupils taking part in the Crucial Crew Workshops at Rotherham, 11th December 2015
Our Y6 pupils have been involved in an Enterprise Scheme linked to their AH! Challenge Awards (Aim Higher) and therefore researched, planned and sold products and serivces at the Wilthorpe Christmas Fayre. They did an excellent job, raising £500!! WELL DONE OUR BUDDING ENTREPRENEURS!!!
We had a fantastic time visiting The Deep in Hull. We learned all about Fossils and Rainforest Rivers.
Y6 pupils carrying out their Water Aid Filter investigation November 2015:
Congratulations to Eddie, Luke and Josh who have been selected for Barnsley and District Schools' Football Association under 11's Squad
Pupils in Y6 have also been learning about the Circulatory and Respiratory Systems: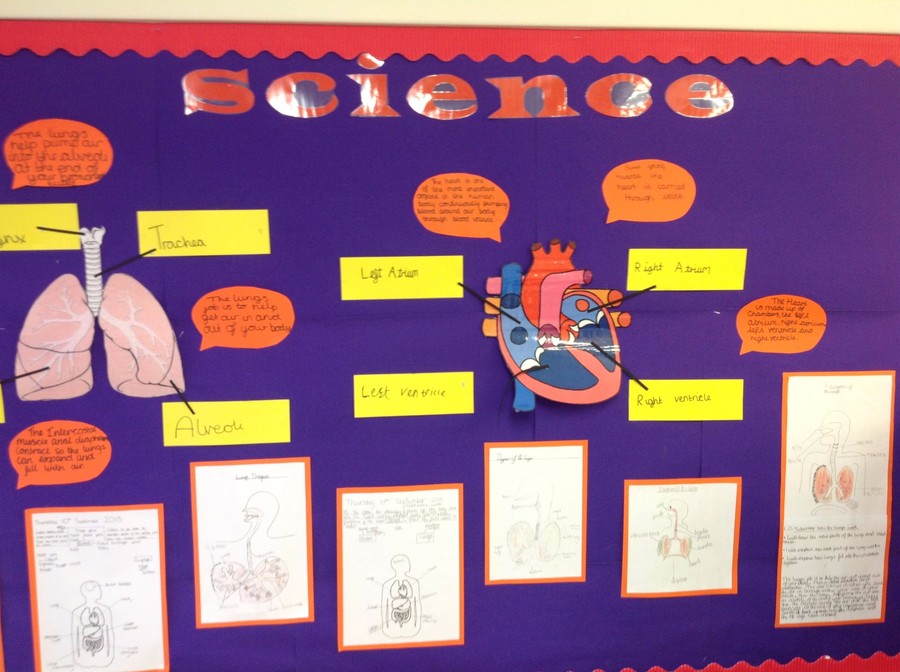 Our Topic this term is ...
Into the Jungle
The pictures below show some of the group work that Y6 pupils did about the 'Structure of the Rainforest' and the slideshow shows our artwork and display work which include acrostic poems.