Welcome to Year 5!
Miss Wright and Mr Hague are the teachers in 5GW and 5DH
5DH Christmas Carol Concert – Wilthorpe and Redbrook Community Centre, Tuesday 13th December
On Tuesday 13th December 5DH walked up to Wilthorpe and Redbrook Community Centre in order to sing Christmas carols and give out the Christmas Gift Boxes to the elderly. They had a wonderful time and even played some Christmas games. As always, our pupils were wonderful ambassadors for our school and the elderly people were delighted by the concert and also touched that we had created the individual gift boxes. Well done to ALL of the pupils and parents who have been involved in this project, from wrapping gift boxes, to making donations, to singing carols! We would also like to say a big thank you to the Rotary Club of Stainborough for all their donations to the gift boxes, in particular Barbara Lee and Joyce & David Pickett who came and helped children make and wrap the gift boxes and also delivered the boxes yesterday. Thank you to Jean Gaunt, the manager at Birdwell Co-op for all the lovely boxes of chocolates and also thank you to the Tesco on Huddersfield Road for their donations.
Well done to Demi Skelley!
Well done to Demi Skelley for her lovely reading of her own poem, inspired by thetrip to the 'Stories of the Somme' exhibition at Barnsley Museum. Demi did a beautiful reading of her poem during our Remembrance Service on Friday 11th November.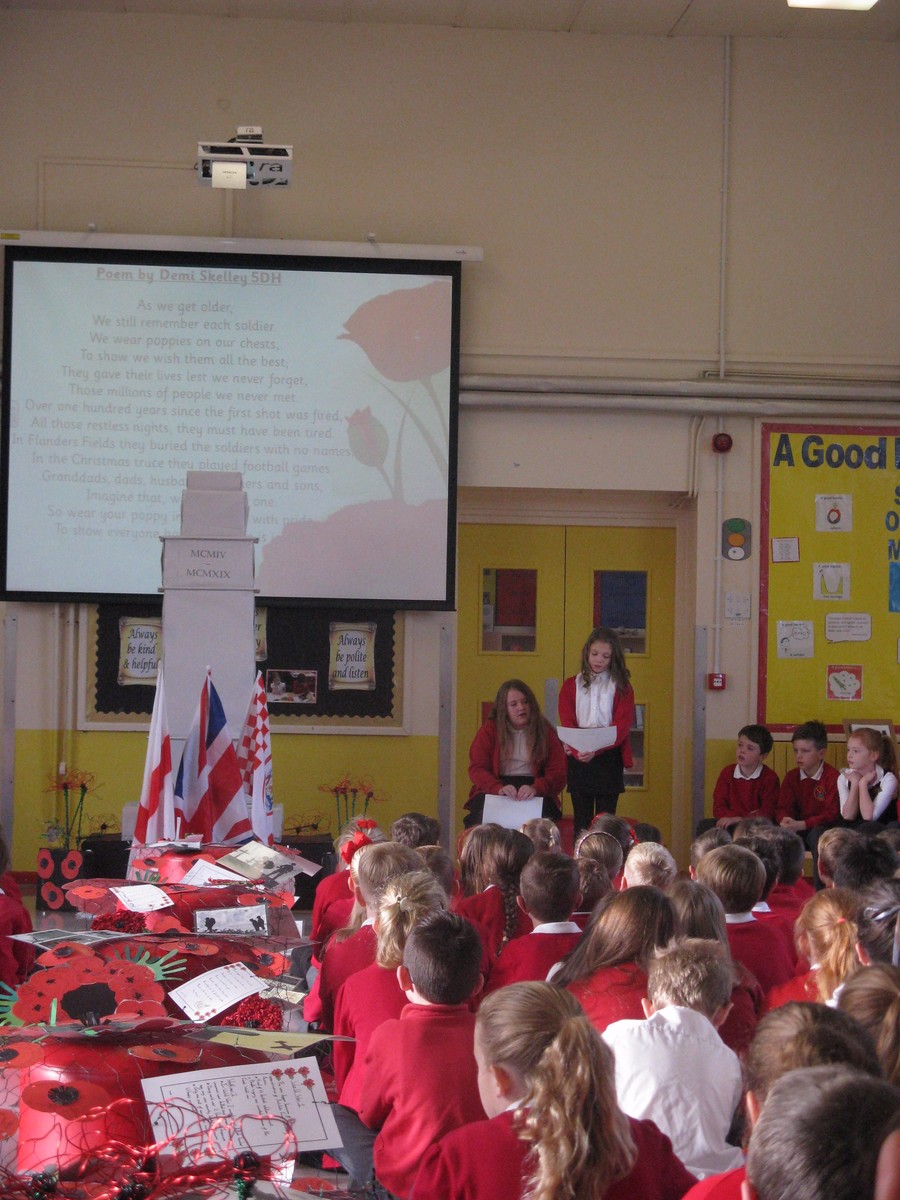 VISIT TO EXPERIENCE BARNSLEY MUSEUM
WEDNESDAY 2ND NOVEMBER 2016
This year marks the centenary of the First World War and, to commemorate this, Wilthorpe Primary school has been putting on a variety of activities that encourage children to understand how war has shaped our society and also how they, as the next generation, are responsible for shaping the future. As John F. Kennedy put it: "Peace is a daily, a weekly, a monthly process, gradually changing opinions, slowly eroding old barriers, quietly building new structures."
We therefore arranged for fifteen pupils from Y3 to Y5 to visit Experience Barnsley Museum on Wednesday 2nd November to explore the 'Stories of the Somme' exhibition which tells the story of the worst battle in the British Army's history, through the eyes of local people. The Battle of the Somme raged from 1st July to 19th November in 1916. It was a terrifyingly hard struggle for the soldiers involved and Barnsley's men and boys were at the forefront of the fight. Through the exhibition pupils discovered more about how the Great War affected the lives of those fighting on the front line and also the lives of their families at home.
Pupils also took part in a practical workshop in which they created a symbol of hope for the future by making a wire poppy to bring back to school to display both during and after our Remembrance service on Friday 11th November. Here are some of the photos which include Tilly Jackson, Amelia Jones-Osborne, Lucas Mitchell and Demi Skelley from 5DH and Anita Baugh and Sofia Pietrantonio from 5GW:
Barnsley Council's IKIC (I know I Can) Bus
The first two weeks of October saw Barnsley Council's IKIC (I know I Can)bus touring the borough and on Thursday 13th October 5DH were able to jump aboard and take part in an exciting enterprise workshop. Pupils were split into small groups and were asked to design a brand new product by 'mashing' two existing products together. Pupils were asked to think about design features, who would buy their product, the cost to make it and how much they would sell it for to make a profit. We had some interesting and creative ideas from a real food printer – 'The Foodinator' to a 'radio bike'. The children were focussed and enthusiastic and a credit to the school. Moreover, they had a fantastic time – "I loved making and combining the products out of the catalogue", "I liked learning something different", "I like inventing our own products" and "I liked being on the bus instead of being in the classroom", were just some of the comments the children gave as feedback. Here are some photos of the workshop:
European Week of Languages 26th - 30th September 2016
Monday 26th September was European Day of Languages, therefore, we decided to celebrate with a variety of language themed activities across KS2. We kicked off with an assembly about why it is so useful to be able to speak a different language and we also had a quiz about what different gestures mean across Europe. Our wonderful kitchen staff provided a European menu for the week, including recipes from Italy, Greece, Lithuania, France and England – delicious! Y3 and Y6 took part in Hispanic dance workshop with Mrs Cawthorn, Y4 indulged in some French food tasting (not sure the French cheese went down quite as well as the croissants!) and Y5 took part in an afternoon of workshops which saw them learning Italian, being budding engineers and creating their own Eiffel Tower, making traditional Rogaliki Polish biscuits and visiting the European Union headquarters in Brussels and finding out how speaking foreign languages can make us more employable, better communicators and more understanding of different cultures. Here are some of our Y5 photos:
Y5 'CINCO DE MAYO FESTIVAL'
On the 5th May Y5 pupils started a project all about the 'Cinco de Mayo' festival in Mexico. Over a period of four lessons pupils researched and learned that the festival celebrates the victory of the Mexicans over the French at Puebla, despite being massively out numbered. Pupils learned why the battle came to pass and found out how Mexicans in and around Puebla and Mexicans living in USA celebrate the victory. We studied Mexican mariachi music, Mexican dancing, we practised a Mexican ' Grita', made our own Piñatas and we also made our own 'fact finding' Mexican Mariachi men! Have a look at our photos on the 'Langauges' page of our website and below.
Mr Hague's class put on a stunning production of Shakespeare's "Twelfth Night" in the Civic on Wednesday 11th November. They were brilliant!
Topic
This term's topic is Ancient Greece.
We will be researching and learning about a wide variety of aspects of Greek life, including:
* Greek myths and gods
* Athens and Sparta
* The Greeks at war
* Greek inventions
* Greek language
* The lives of women and children
This website is a great introduction to Ancient Greece:
http://www.bbc.co.uk/schools/primaryhistory/ancient_greeks/
Literacy
Our focus for the first six weeks will link very closely with our topic, as we look at a wide range of Greek myths, legends and fables. We will then move on to look at instructions.
For those interested in Greek myths the Percy Jackson stories by Rick Riordan are a great read.
Spellings - To practise your spellings, please visit this section of our website:
http://www.wilthorpeschool.co.uk/pupils/homework
Numeracy
The focus of maths lessons in the first half term will be on the following areas:
* Place Value, including rounding numbers and estimating.
* The four operations (addition, subtraction, division and multiplication)
* Shapes
* Area and perimeter
* Co-ordinates
* Angles
Children, practising your ability with the four operations of addition, subtraction, multiplication and division can be great fun with the Speed Challenge game from Topmarks. Click here to access this resource and play at home. You set the challenge so you can make it as easy or hard as you like. Can you subtract better than your parents? How fast can you do your 6 times tables? Maths has never been so exciting!
Homework
Homework will be given out every Friday and should be returned by the following Thursday. The homework will reinforce work covered in class.
Reading
Please encourage your child to complete their Reading Miles books.
P.E.
PE lessons in Y5 are Tuesday and Thursday.
Please ensure that your child has the correct PE kit for indoor and outdoor activity.